"

Jillian is the whole package, her voice immediately soothes and captures your attention, then her multi-instrumental mastery weaves a new dimension into her music, and of course there are her songs - well crafted poetry that is highly original and yet feels comfortable in a way that only the finest of songs provide. Jillian Matundan is a remarkable artist whose music will stay with you."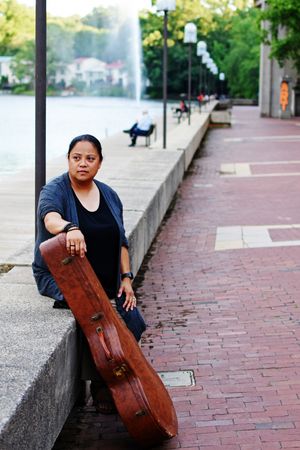 LATEST NEWS
NEW ALBUM UPDATE: July 2023
We are a few rounds into the mixing process and the final pieces are coming together. Importantly, the changes we are making now are in millimeters, not feet - so you know we are getting closer! 
The recording process always takes longer than hoped and we know that this has felt very delayed. But Jillian and the team are making sure that they are delivering THE BEST album possible, and we truly hope it will be worth the wait! More updates are coming, including information on how to pre-order and some new items that will help get this album over the finish line.  Stay tuned!
ACOUSTIC GUITAR PROJECT
Jillian was excited to be invited to participate in the Acoustic Guitar Project in Washington, DC for the 2022 season. The way it works is that five local songwriters are tapped to write a song on a guitar, record it, and hand off the guitar to the next songwriter - all in one week. 

It was a project Jillian had always hoped one day to be a part of and was honored to join other incredible local singer-songwriters, including Tom Prasada-Rao, Karen Collins, Bill Baker, and Bill Williams. You can hear the song she wrote during her week here. 
FROZEN  WINS GOLD IN THE MID-ATLANTIC SONG CONTEST!
Jillian won four awards in the Mid-Atlantic Song Contest (MASC) 39, including taking home a Gold Award in the Adult Contemporary category for her song, Frozen. The song was also chosen for Honorable Mention in the Pop category. Her co-write with the incredible Sue Horowitz, Fall In New England, won a Finalist award in Folk Acoustic and an Honorable Mention in the Open category.
These four wins bring her MASC Award total to ten since 2019! Find out more about the MASC and hear the award-winning songs here.
LISTEN TO JILLIAN ON YOUR FAVORITE STREAMING SITE: